🧠 Musings
No, the band is called The Who
2022-10-06
That's what I explained to a friend in jest after I told them I was going to a concert — that I wasn't just quipping "the who?" in response to their repeated questioning.
Watching one of my favorite bands in my first real concert is all I could've asked for. I have faint recollections of being taken to a few concerts as a kid, but those don't really count do they?
Going to this concert was a particularly out-of-book decision for me since it was hard to find others who wanted to go. An odd combination of friends not knowing who The Who is and the show being scheduled for a Tuesday night meant I was by myself. I guess this is my sign I need to put more effort into meeting people who like rock.
Regardless, I eventually convinced myself that most of my favorite artists are dead or retired, so this may be one of the few times I get to see one of them play. And so I pulled the trigger, I bought an overpriced ticket and a round-trip bus pass to Detroit, and I counted down the days to October 4.
---
The show kicked off with an almost royal rendition of Overture. It's a great opener, a hint of sorrow leading in, followed by upping the tempo with energetic notes and horns, almost as if saying, "welcome to the show". The group proceeded down the list of songs from Tommy, with Sparks particularly catching me off-guard and Pinball Wizard proving to be beautiful anthem it is. My Minecraft username is inspired by Pinball Wizard, so I was looking forward to this one, to say the least.
With Eminence Front, the stage kept our energy high, and at this point I was particularly dazzled by the lighting setup — amping up our excitement in perfect coordination with the highs, lows, and kicks of the song. I think I'd have drilled a hole in the ground if I'd tapped my foot any harder. Join Together sounded particularly melodious with the live harp and harmonica.
While giving the orchestra a little break, we seemed to move to some lesser-known songs in Relay and Another Tricky Day (but as Pete put it, this was quite the apt song given their technical difficulties with earpieces during the show). The energy soon returned with Won't Get Fooled Again, capped off with a cello and violin assisted rendition of Behind Blue Eyes.
The orchestra returned to the stage then for what is probably the biggest reason I even went to this show: tracks from Quadrophenia. Here we treated ourselves to The Real Me, I'm One, 5:15, The Rock, and Love, Reign O'er Me.
I was particularly enchanted by The Rock, as has always been the case. I don't think there's a string of words that'll ever capture the full power of this song. It takes you through what seems like a slow period of hardship, conflict, roughness, and determination, followed with hints of emotion, reflection, resolution, and upswinging triumph — legends of generations in one song. On a screen beside the stage, the induced feelings of trouble are accompanied with visuals of conflict from history — the World Wars, Vietnam, the Gulf War, Afghanistan, the toppling of the Berlin Wall. But the scenes even progress into the 2000s and present day — capturing the fall of the Twin Towers, Occupy Wall Street, the 45th American president's rallies, the coronavirus pandemic, January 6, and most recently, the Queen's passing. Besides the few people in the audience who decided to cheer when their favorite president came up, The Rock was perhaps my favorite all-encompassing experience throughout the show (another performance for reference!).
Finally, the group began to set the stage for their departure with a performance of Love, Reign O'er Me and the always-perfect Roger Scream (albeit prerecorded now). The final track, Baba O'Riley, featured an incredible on-stage performance by the violinist travelling with the group. I didn't think I'd ever see a violinist headbang to teenage wasteland but I'm glad to have been proven wrong.
Overall, I couldn't have asked for a better set list, as the ensemble performed nearly every one of my favorite tracks. I felt the sound mixing lacked punch at times, but as a not-music person it's hard to describe what exactly was off. I was hoping for more clarity in some of the orchestral bits in Quadrophenia, but perhaps this is part of the gamble with live music. There also seemed to be continual troubles with Pete's earpiece system, leading to him running and signalling off stage a handful of times.
The show felt slightly worse than ones I've watched online (my seat neighbor who'd seen The Who fifteen times before inclined to agree). Regardless, I think it's difficult to truly be unhappy after hearing some of your favorite songs from your favorite artists. And admittedly, I'm not a particularly artsy writer with the vocabulary of music reviewers, so this reflection doesn't capture everything I felt in the moment.
Besides the mad dash I had to make through the streets of Detroit to catch my bus back home, I left the show smiling ear-to-ear and with a renewed sense of positivity. It's Art like this that makes it rain.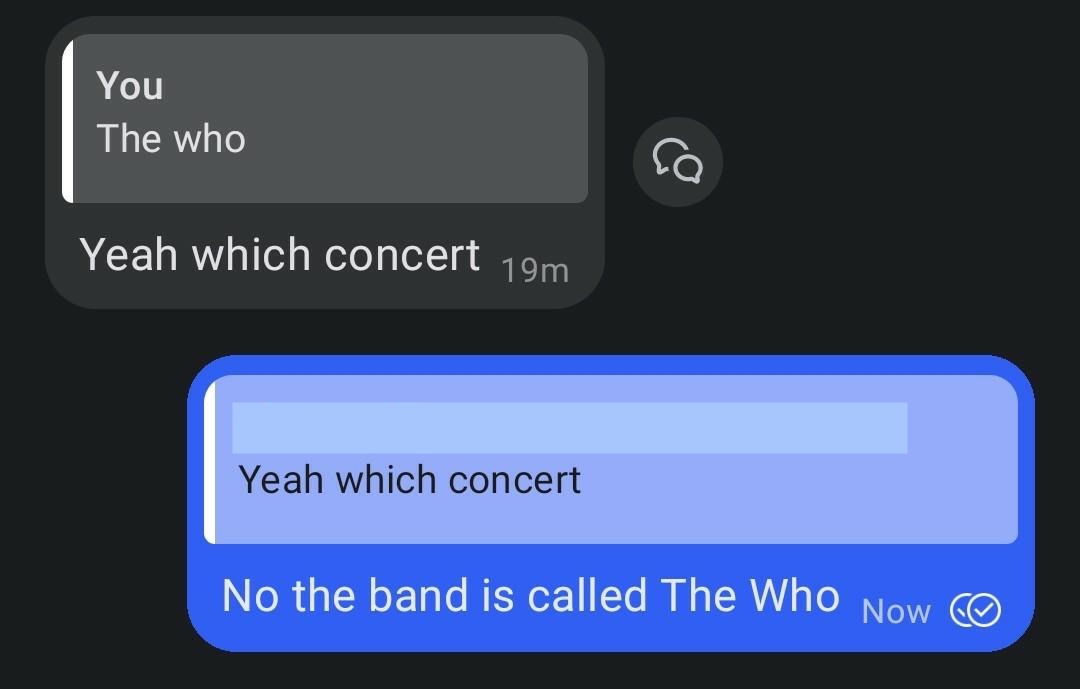 ~ Amal